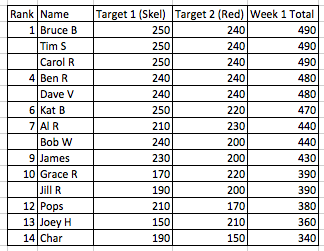 In this league, we are focusing on shooting with our non-dominate hand and drawing from a holster. This is a great way to have fun while doing some practical training. If you were not here on Tuesday 9/12, you missed a ton of fun but it's OK, you can come in next week to participate. The league runs for 8 total weeks on Tuesdays at 10am or 6pm.
We have a 3 way tie for first place. Bruce, Tim and Carol all made perfect scores on the red target followed by an impressive 250/260 score on the Skeleton target. (I don't think Richard did that well when he first shot this course!)
We look forward to seeing everyone again next week and remember, there is still time to participate if you want to come have some fun!