Our firearm rentals let you "test drive" various types.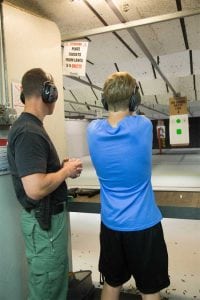 Here at ProShots, we understand that firearms are not a one-size-fits-all situation. Each one has its own characteristics, and it is not as cut and dried as selecting a shoe size. You want a firearm that fits well in your hand and has the weight, recoil, safety features, and sight picture that works best for you. If you had to purchase a gun before you could shoot it, it could end up being an expensive proposition to get to the one you like best. Thankfully, with our firearm rentals, you won't have to do that. We have an excellent inventory, which we continue to expand and update, so you can "test drive" a wide variety of firearms.
Firearm rentals are also a great way to keep up with your practice sessions if you are on vacation here in the Winston-Salem, North Carolina area and either couldn't or didn't want to travel with your own firearm. If you live here, you may have guests from out of town who face this situation. Another possible reason to utilize our firearm rentals is if your firearm is currently being repaired or upgraded by one of our gunsmiths.
If you are a firearms enthusiast or competition shooter, you may wish to become proficient with as many different firearms as possible. If you plan to work your way through our inventory, we highly recommend you purchase one of our individual or family memberships, as that entitles you to free firearm rentals and range use. If you have any questions about how our firearm rentals work or what we have in inventory, don't hesitate to contact us.
In order to provide the safest environment for everyone in the store, members will be held accountable for the safe behavior of their guests. Any unsafe behavior could result in the revocation of membership privileges.
---
At ProShots, we offer firearm rentals to customers throughout North Carolina, including Winston-Salem, Rural Hall, Oak Crest, Walkertown, Tobaccoville, Pfafftown, Bethania, Greensboro, Lexington, Statesville, and Forsyth County.