We'll help you overcome whatever is keeping you from taking gun classes.
Have you thought about taking gun classes but always seem to have one reason or another why it hasn't happened yet? Here at ProShots, we strive to overcome anything that has stood in your way, so you can get the training you need to be proficient with your firearm. Here are a few of the ways we can help: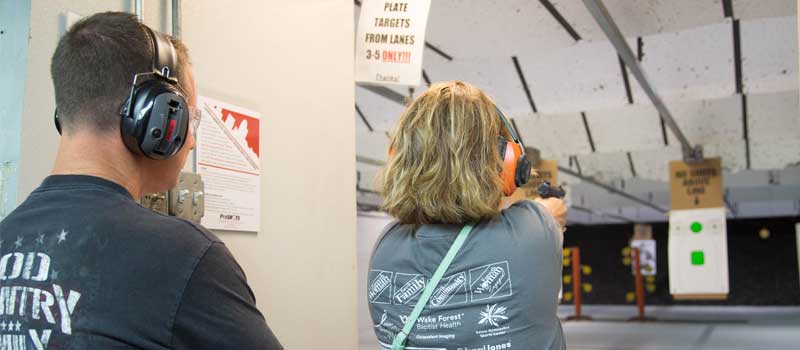 I have a busy schedule. We are open 7 days a week with evening hours every day except Sundays, and we're more than happy to schedule a custom, one-on-one session at your convenience.
The weather is horrible. Our 8-lane gun range is indoors, so you won't need to worry about rain, sleet, hail or snow.
I don't own a gun. We have a wide selection of rental guns, including handguns, shotguns, and rifles. This makes it easy to take gun classes and learn which gun you prefer.
I'm not sure I can afford gun classes and range time. We believe you'll find our gun classes to be more affordable than you might think. Furthermore, if you choose to, you can purchase an annual or semi-annual membership that entitles you to unlimited free range use, free rentals, and one free one-on-one lesson, as well as other great benefits.
In order to provide the safest environment for everyone in the store, members will be held accountable for the safe behavior of their guests. Any unsafe behavior could result in the revocation of membership privileges.
If I get started, my whole family will want to take gun classes too. That's not a bad thing! Firearms training can be a fantastic family activity. Family and parents come to us because they don't feel intimidated in our family-first facility.
I don't want to go to a range. We can also arrange for off-site gun classes at a location in the Winston-Salem, North Carolina area that is convenient for you. We also do off-site group gun classes.
If you have any other concerns that are keeping you from taking gun classes, we hope you'll call or stop by to discuss them with us. We will do everything we can to help you, so you can gain the confidence and skill you need. Our training is second to none because we never cut corners. We take pride in doing things by the book, so you are assured of the proper use and handling of your firearm.
---
At ProShots, we offer gun classes to customers throughout North Carolina, including Winston-Salem, Rural Hall, Oak Crest, Walkertown, Tobaccoville, Pfafftown, Bethania, and Forsyth County.