Our public indoor gun range has eight lanes of up to 25 yards in length for your shooting practice.
Indoor Gun Range in Forsyth County – Being safe and proficient with a firearm happens just like being good at anything does — through practice. Here at ProShots, we have an indoor gun range that provides a comfortable and safe environment to get the practice you need. If you have been searching in Forsyth County, North Carolina for a place you can shoot your pistol, shotgun, or any rifle under 50BMG, you can now stop searching because we have eight lanes of up to 25 yards in length for your shooting practice.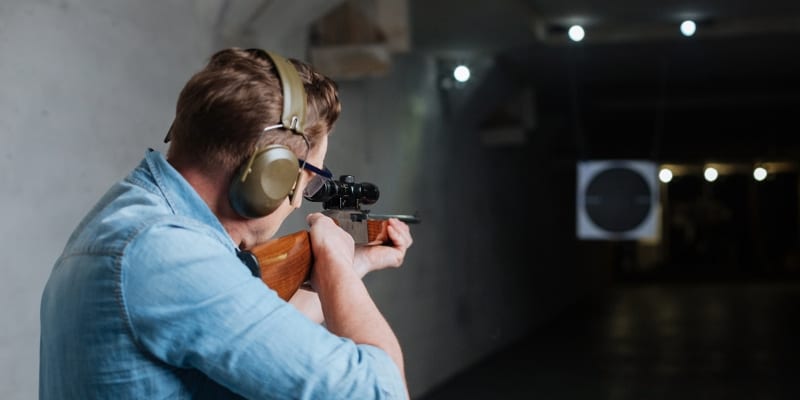 You can feel confident coming to our public indoor gun range even if you have never used one before because our skilled professionals are happy to help first-time range shooters. We also have a variety of training courses that can help you perfect your skills or prepare you to legally carry your weapon in the state of North Carolina. We can also create a custom or off-site training option if we don't already have the ideal class for your needs.
Whether you come for your first time or as someone driving through the area or you want to take advantage of our membership programs for regular training and use of the indoor gun range, we welcome your visit so you can learn more about what we have to offer.
In order to provide the safest environment for everyone in the store, members will be held accountable for the safe behavior of their guests. Any unsafe behavior could result in the revocation of membership privileges.
If you have any questions about our indoor shooting range, firearms for sale or rent, one-on-one training, gunsmithing, and other services and products, don't hesitate to contact us or drop by to see us. We look forward to working with you.
---
At ProShots, our indoor gun range proudly serves customers throughout North Carolina, including Winston-Salem, Rural Hall, Oak Crest, Walkertown, Tobaccoville, Pfafftown, Bethania, Greensboro, Lexington, Statesville, and Forsyth County.